C'est un bien joli bateau … dessiné par Alfred Edfward « Bill » Luders et son père Bill en 1933.
On se reportera à un article très documenté de Bob Wellstrom, publié dans Wooden Boats Magazine n° 177 (avril 2004). Bob à travaillé pendant 3 ans au chantier Luders et a été un ami personnel de Bill Luders. Il prépare un livre sur l'histoire de Luders.
« For the Luders Marine Construction Company of Stamford, CT, an order for 10 boats to a new design from Fishers Island Yacht Club, New York, couldn't have come at a better time.
The Great Depression of the 1930s had plunged America into hard economic times and the firm was suffering. The Luders 16, as the new design became known, however, provided not only much-needed work, but also became one of the company's bestsellers.

Designed by AE (Bill) Luders, the new one-design was developed for use by Fishers Island YC's junior sailors to give them a bigger and more challenging boat to move up to.
It was similar in design to a 6-Metre, featuring long, elegant overhangs, an attractive sheer, fin keel and a tall, narrow rig. Planked in 5/8in white cedar on steamed oak timbers, the 26ft (8m) L-16 also included very basic accommodation.
By 1938, 14 had been launched and were racing to great success, but in September of that year, disaster struck: a Category 5 hurricane hit the New England coast, destroying or damaging 57,000 homes and 2,600 boats. Only three L-16s survived, and even these were not totally unscathed.
The advent of World War II halted the class further, and although a new boat was launched in 1939, it wasn't until 1944 that the class began to reform.
The interruption of World War II did, however, have a positive effect in that new construction techniques honed during this time helped reincarnate the design.
During the war, Luders Marine produced 18ft (5.5m) airborne lifeboats, which were hot-moulded in construction and, following a small redesign, the L-16s were built using this method, too.
The new boats were 4in (10cm) longer overall, had an inch more freeboard and were of a lighter displacement, with double-diagonal hulls built of five 1/8in mahogany laminations, glued with resorcinol. Initially they were designed with a long coachroof and three port lights, but it was eventually shortened to improve the cockpit size.
Interestingly, despite Luders Marine's obvious skill at hot-moulding, the hulls were built by two sub-contractors, US Plywood of Long Island and Allied Aviation of Cockeysville, who between them built 150, while they were fitted out by Luders Marine. In 1945, some were also fitted out by South Coast Company at Newport Beach, which also helped promote the class.
The class became an instant hit, and, marketed as "hot racers for the common man", fleets were soon established at Chicago, Newport Beach, New Orleans and Bermuda. Of these, it is the Chicago Yacht Club's fleet that has proved the most enduring, as it has raced continuously since 1945, and today has 12 boats, five of which regularly race.
Designed for juniors to sail, the L-16 offers both exhilaration and a stable learning platform. With its long hull, relatively narrow beam, 2/3 fractional bermudan rig and 180 per cent genoa, crewing a L-16 has been described like "sailing on a needle", and according to fleet archivist Bill Simpson, "it takes very little wind to begin heeling the boat.
In 15 knots you will be heeled 25-30 degrees, but it is not unusual to 'bury' the inclinometer, which stops measuring at 45 degrees!" However, although initially tender, the 1,600lb lead keel makes them inherently stable, so knockdowns are rare.
Like many classes of its era, the L-16 saw its heyday in the 1960s when 20 boats were regularly seen on the startline. By this time, GRP hulls had infiltrated the class and, although Luders Marine built the first two, they ceased production in 1959, and it was taken over by Easterly Yachts, Midwest Marine and Continental Plastics.
In 1986, four more were built in Bermuda, and there are plans, if enough interest can be generated, to build more in Maine.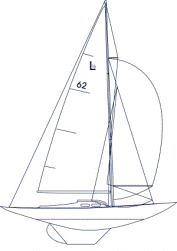 Original name
The class was initially called the Fishers Island L-Class, before being renamed the Luders 16. 'Luders' refers to the class's designer AE (Bill) Luders and '16' to the design's waterline length.
Vital Statistics
LOA: 26ft 4in (8m)
LWL: 16ft 4in (5m)
Beam: 5ft 9in (1.8m)
Draught: 4ft (1.2m)
Disp: 2,950lb (1.338kg)
Sail area: 207sqft (19.2m2)
Designer:  AE (Bill) Luders »
(Source : Classic Boats magazine)